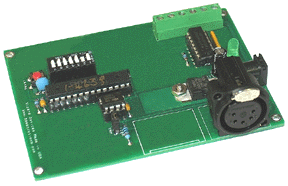 Board Size Approx:
4-1/8" L x 3-1/4" W x 1-3/8" H
( 9 Vdc @ 1.0 Amp power supply required)



DMX - Analog Encoder Instructions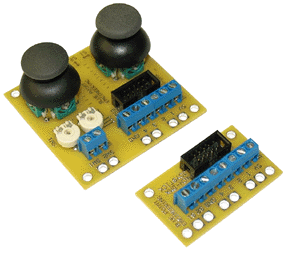 Optional 4/6-Ch Joystick Interface
Control Module - (Custom Option Shown)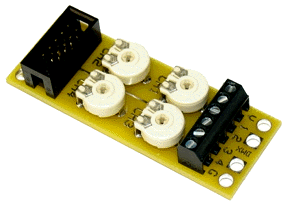 Optional 4-Ch 0-5VDC Adapter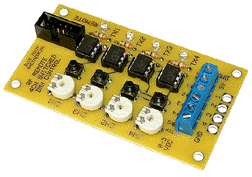 Optional 4-Ch Multifunction Adapter
Analog, Switch, Remote Switch, RF Remote
DMX - 4 Ch Analog to DMX Board
"Made in the USA"
This unique universal 4-Ch DMX Board provides the essential interface between DMX and Analog Input applications used for DMX control systems. (Potentiometers, Joysticks, Modified Switches)

This board is designed for connection to a DMX loop, specifically for controlling 4-Channels of analog driven device input to DMX 0-255 level outputs per channel. on a single standalone network.

Board can transmit DMX code and translate it from Analog Inputs. (Potentiometers, modified switches) to output control of optional network attached devices (Relay, Motors, Servos, etc.) and has been designed as a flexible interface device to the very fast DMX512 network to allow enthusiasts to develop their own Analog to DMX controlled devices with the minimum amount of electronic parts.
Optional Analog driven devices can be connected to the DMX 4CH analog to DMX board directly by a wire terminal block on-board. 5VDC, Ground Analog signals are directly provided on the board analog input ports to assist optional add-on components (Switches, Joystick, Potentiometers, etc). DMX values 0-255 are automatically converted based on Analog input readings from potentiometers, switches and sent out through the stand alone network on-board XLR connector to other DMX devices connected to the 4-Ch DMX Analog Board network..

4-Ch DMX Board Base address can be set from 1 to 112
Board will act a DMX Transmitter directly on DMX Network. (No other control console / software needed.)
NOTE: Requires DMX Merger Board if used on a multiple DMX network setup. This DMX to Analog board Transmitter directly on its own single stand-alone DMX Network.
NOTE: Power supply or optional analog adapter boards, remote trigger switch, Other DMX boards (Relays, Servo Driver board) not included.
( 9 Vdc @ 1.0 Amp power supply required)

Optional Joystick Controller. (Directly Control 2 or 4 R/C Servo motors over DMX network through optional add-on R/C driver board. (Not Included) and the connected DMX Analog Converter board and user Joystick Interface module (Not Included) * (Requires a DMX Servo Driver board, R/C Servos , Joystick Interface board connected to DMX network, to be added, not included).
Optional On-board Potentiometer Output Control Module.
Adjustable 4 Analog signals to DMX Converter. On-board wire terminal block for easy connection, and ribbon wire connector for remote switch input terminal of RF wireless Remote control receiver board.
4-Analog potentiometers can be user adjusted to output 0-255 DMX levels when connected to Analog converter board. Remote trigger switches can be setup for switch triggering DMX output, or connected to RF receiver board outputs for wireless remote control triggering at DMX output level 0-255 per channel. On board wire terminal and ribbon cable connections for quick and easy setup.

Optional Multifunctional On-board Potentiometer Output Control Module.
Adjust 4 Analog signals to DMX Converter. On-board wire terminal block for easy connection, and ribbon wire connector for remote switch input terminal of RF wireless Remote control receiver board. Test buttons and VDC Meter analysis check points on-board.
Analog potentiometers can be user adjusted to output 0-255 DMX levels when connected to Analog converter board. On board wire terminal and ribbon cable connections for quick and easy setup.
Ribbon Cable included between switch module and Analog DMX adapter board and wires. * (Optional RF Transmitter, Receiver and DMX Network cables not included)

DMX - Analog Encoder Instructions