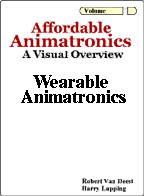 Sample Book Pages

See YouTube Videos of
Animatronic Applications

Due to the large number of
request to have us do this
handbook sooner,
Volume 3 is currently
in development
Affordable Animatronics - Volume Three
" Wearable Animatronics - A Visual Overview "
This unique handbook is designed to introduce various applications and concepts used in Wearable Animatronics being used in the Entertainment and Haunted Industries.

The book covers Design Principles, Sound, Special Effects, Lighting, Mechanical Concepts, Basic Pneumatic Applications, Remote Control Transmitters and Receiver use, Electronic Control Boards, Remote Battery Use, User Safety, Costume, Mask finishing, dressing and detailing and how they apply to wearable animatronic items, like Hats, Shirts, Masks, Costumes and some hand props. Information on how to attach electronic boards, pneumatics and mechanical components to your wearable animatronic costume or mask are also discussed.

Information is shown in an easy to follow graphic format with pictures and many technical drawings and concept overviews.

Several professional applications with pictures and product details will be reviewed, that are being used today by Hollywood, Theme Parks and major design companies who are creating wearable products for the industry.
Readers can use this handbook to help setup there own applications through the sample technical drawings shown.

Handbook also showcases several Wizard, Puppet, Sound and unique controller boards, available off the shelf, all easily setup for wearable animatronics.
105 pages total
All Pages color
Resource page with parts and source listing.
Paperback book bound with spiral comb.