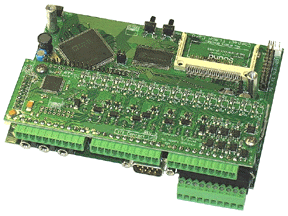 Back View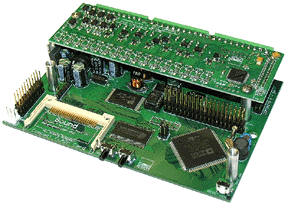 Front View

Board Size: 5-3/4" L x 4-5/8" W x 1-1/8" H
Board is pre-assembled and tested.








Optional
Audio Speakers - 2 / 8 Ohm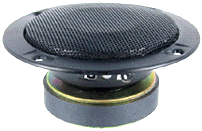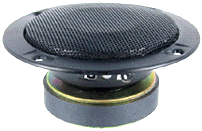 Optional
CF Flash Card
or
CF Flash to Micro SC
Adapter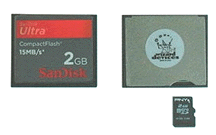 Optional
8-Ch Switch and Wire Harness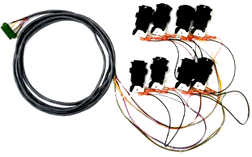 click on switches for closeup view
Digital Pro Sound Controller System
Feature packed, proven quality and reliability, the Pro Sound Card is a digital audio repeater that can be used for interactive displays, standalone music, message announcement, concert audio, home theater audio, Animatronic shows or anywhere quality audio is needed for your application. The Pro Sound Card is simple to operate and setup, you simply record the WAV files on your PC, and name the WAV files how you want them to play. You next copy the WAV files to a Compact Flash card, connect speaker(s), and plug in the Pro Sound Card using the included wall transformer. Audio is played out via the built in High Power Stereo amplifier, or you can connect it to your own amplifier using the line-level out jacks.

Eight contact sense input are built in for triggering sounds with switches or motion sensors along with 8 relay outputs for controlling attached devices. If using the built in optional BASIC command control language, the relays can be controlled individually, and inputs can be used to control program flow and operation.
The Pro Sound Card's 44kHz 16 Bit stereo CD/DVD quality audio and built in digital stereo amplifier will astound you. Connect a set of quality speakers and you will not believe the fidelity and power of what you hear. The built in Class D amplifier generates unbelievable audio power with no heat! It's digital right to the speakers!
You can record your audio files using the sound recorder software included with your computer, our use one of the many audio editing software packages that are free on the internet. Using an audio editing software allows you to add effects, fades, noise, tones, touch tones, silence, background music and more, that will make your audio WAV files sound like they were done by a pro.
Volume may be remotely adjusted by connecting momentary push button switches to the provided pin header connector located on the main PCB , or the on-board buttons can be used to control sound levels of the Pro Sound Card.
* Operates on 12 - 15VDC. - 0.5 Amp
Wall transformer included for operation on 120 or 240 VAC 50/60Hz.
* Stereo and Mono .WAV files supported. 44KHz 16-Bit sample rate.
* Built-in High-Power Digital Class D Stereo Amplifier for 4 or 8 ohm speakers.
20 - 20kHz Frequency Response
* Built-in 35mW stereo headphone amplifier.16 - 64 ohm headphone support. 1/8" Stereo jack for headphone connection.
* Eight switch / sensor contact inputs for triggering playing of audio files
* Line level output via 1/8" stereo jack for connection to external amplifier or PA system.
* Line level input via 1/8" stereo jack for audio pass through when audio file is not playing.
* Diagnostic LED's to insure proper operation, configuration, and card status.
* Low power, 100mA idle, less than 250mA playing sounds at moderate volume levels.
* Small size of only 6.1" x 4.2" x 1.75".
* Compact Flash Card Slot with activity & diagnostic LED's underneath card slot
Recessed Volume Up & Down switches
* Contact pluggable terminal blocks
* Diagnostic LED's to insure proper operation, configuration, and card status.
* Sound wav files, control files are loaded directly onto FLASH Card, and card is inserted into Controller for playback.
* Terminal connectors for switches / sensors, power.


Audio Sample Rate - 2 Gig Flash Card

44KHz 16Bit Mono
Sample Rate
44KHz 16Bit Stereo
Sample Rate
384 Minutes / 6.4 Hours Playback
192 Minutes / 3.2 Hours Playback

NOTE: Maximum file size is 4 gig
2- Gig FLASH Card, Wall power supply, Two Speakers, 8 remote wired switches and hookup wire included.

Switch Harness
Eight 1.4" Diameter Black push buttons wired on 10' of 22 gauge 12 conductor wire. Each switch is labeled 1 - 8. Switches are grouped in to four groups of two switches. Each group has 16" of wire to them, so each group can be mounted 30"-32" from the furthest group. The electrical part of the switch easily snaps off the bottom of the of the mounted portion of the switch, so that it can be installed without removing the wiring. The other end of the 22 gauge 12 conductor cable has a 10 Pin connector on it for plugging into an IO expansion module on the Sound Board Controller.