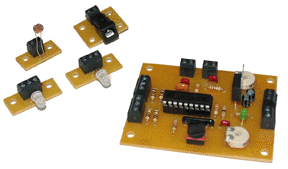 click on images for closeup views
Main CPU Board Size:
2-3/4" Long x 2-1/8" Wide x 1" High

LED (2) Board Size:
1-1/8" Long x 1/2" Wide x 3/8" High

Power Adapter Board Size:
1" Long x 7/8" Wide x 3/8" High

CDS Sensor Board Size:
7/8" Long x 1/2" Wide x 1-1/4" High
Power Supply
7-24 V DC @ 100 mAmp Power Supply ..

Board is pre-assembled and tested.

Application Example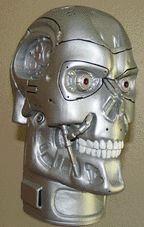 Click on image for a setup view
15 - Effects LED Control Board
This Microprocessor controlled board was designed to produce 15 different light effects via 2 Bi-Color LEDs. A shadow moving across a CDS cell will trigger the selected effect. Once triggered, the effect will last for a period of time determined by the Cycle Time Potentiometer which can be up to 30 seconds long.

The rate at which the effect occurs (i.e., flashing, fading) is determined by the Rate Potentiometer. Every time an effect is triggered, a 80 mS pulse occurs at the Synch Output terminal block. This can be used to trigger another board.

All connections to the board are through small daughter boards. The board requires a 7.5 to 24V DC, 100 mA power supply.
Mode 1: Two LED's will strobe RED when activated.
Mode 2: Two LED's will strobe GREEN when activated.
Mode 3: Two LED's will fade RED up and down.
Mode 4: Two LED's will fade GREEN up and down.
Mode 5: One LED will strobe GREEN and the other will strobe RED.
Mode 6: One LED will fade up and down GREEN and the other LED will fade up and down RED.
Mode 7: LEDs will alternate strobing RED
Mode 8: LEDs will alternate strobing GREEN.
Mode 9: LEDs will alternate strobing RED and then GREEN.
Mode 10: One LED will strobe RED while the other LED fades up and down GREEN.
Mode 11: LEDs will fade up RED and then stay on for one minute and then fade down.
Mode 12: Both LEDs will come on RED, stay on for the set Cycle Time, then flash 3 times, stay on for another Cycle Time and then go off.
Mode 13: Both LEDs will come on GREEN, stay on for the set Cycle Time, then flash 3 times, stay on for another Cycle Time and then go off.
Mode 14: LED's fade up RED, then fade to ORANGE, then to GREEN and then fades off.
Mode 15: One LED fades up RED, then fades to ORANGE, then to GREEN and then fades off while the other fades up GREEN, then fades to ORANGE, then to RED and then fades off.
Mode 16: In this mode, each time the board is triggered, it cycles through each of the 15 modes one at a time.



( Power Supply , Robot Head Prop, Connection Wires not included )