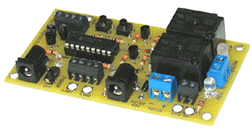 Board Size:
3-7/8" L x 2-1/8" W x 3/4" H





.Instruction Guide
Switch Controlled Linear / DC Motor
Relay Control Module
This unique board was designed to allow the directional control of a 12V DC Linear (In / Out or standard CW / CCW) DC motor by a dry contact closure ( Switch / remote relay) at either the on-board CW or CCW Switch Connector terminal block or by pressing the adjacent on-board pushbutton.
When a signal (Switch / Relay closure) is present at either one of the control terminal blocks (or button), the motor will run in the associated direction (CW or CCW). When a signal is not present, the motor will not run. When the motor is moving in one direction, the other directional input is ignored until the current input signal is stopped. There are 2 limit switch inputs, one for each direction, that should be hooked to N.C. dry contact closure-type switches. When a limit switch is opened, it will stop or prevent movement in the associated direction the motor was operating such as in (CW / CCW, Linear Movement IN / Out)
The on board electronics is powered from a DC source of 12-VDC, 100 mA minimum. Power to the board can be applied via the 2.1mm barrel-type connector or the adjacent 2-position terminal block and is indicated by a red LED. Power for the motor should be 12VDC at a current applicable (10 Amp max) for the motor attached. It is applied via the 2.1mm Motor Power connector or the adjacent 2-position terminal block, indicated by a red LED. A Tri-Color LED next to the Motor Output connector indicates that motor power is present and motor direction- Red / Green. Input LED's indicate which Directional Switch / Relay is active.
Adjacent to the Aux Motor Power Terminal Block, there is a terminal block for the connection of a Emergency Stop Switch (Estop), (EPO Button).When this is activated all power to the motor is immediately stopped. An LED indicates if the EPO button is activated ON or OFF.
Board Requires 2 power supplies, 1-for Board electronics, 1-for Motor power
( Motor , Power supplies, Switches - Not included )