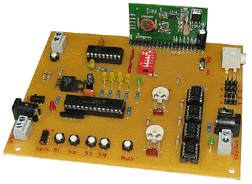 Click on Image for info on MP3 Player


Board Size:
5-3/8" L x 4-3/8" W x 1-3/8" H

Power : 9 Volt dc @ 1 Amp.
Power : 5 Volt dc @ 2-5 Amp.



Animate E2 Overview
Animate E2 Controller
This special board was designed to allow the recording and playback of up to 10 minutes of 4 servo outputs and 1 to 63 channels of audio MP3 playback.
Audio files are stored on a SD card as high sound quality MP3 format. 1 to 63 MP3 Audio files will playback in sequence or random along with the 4 servo channels when board is triggered for playback.
The Animate E2 board incorporates many features such as looping playback servo motion with variable delay between loops. On board connector for remote activation switching such as a PIR sensor, contact switch or mat pressure pad to initiate servo playback and on-board sound output.
No complex programming is required. Programming is easily done, with a set of push button keys and control potentiometer built onto the board. Power Switch ON / OFF. Connection pins on-board for servos, wire terminal block fo easy hookups.
Individual servo programming option for each of the 4 servo channels, along with servo travel limit options.

Programmable Servo Recording time - 10 minutes
MP3 Sound Recording time - As long-big as the SD card capacity is.
Also on board is a audio controller that when the board is triggered by pressing the single on-board button or by dry contact closure at the trigger terminal, will cause the player to play back 1 to 63 MP3 files that are stored on a small SD Card and playback the recorded 4 servo channels These MP3 files can be of any size up to the capacity of the SD memory card, You can have any number of files up to 63 on the SD card.

There are 2 Sound playback modes of operation provided ­ Sequential and Random.

In Sequential Mode, the player will play the files back sequentially from file001.mp3 to file063.mp3 (or whatever your last file is), one file at a time each time the board is triggered. After it has played the last file, it will go back to file001.mp3 and start over.

In Random Mode, it will pick one of the files to play back at random. It will pick a new file each time the board is triggered. The board will wait until the file has finished playing before it can be activated again.

Board requires duo power supplies
Board electronics operate from 9-12 VDC and 5 VDC power Supplies for servos.

( power supply, speaker, remote amp, switch, audio cables not included )....