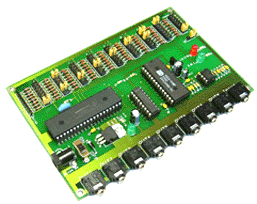 The top right-hand bank of input pins are the Digital sound-channels 1-8 audio playback select pins, also included the random and sequential play options as found on the sound 60 board
The other 8 banks of pin-sets along the back edge are for selecting which sound track goes to which output- jack matrix. ( remote amp and speaker )
Pin-set 1 (on the extreme left) relates to sound track 1- if you want sound track 1 to play-back through outputs 2, 6 and 8 you would put a jumper over pins 2, 6 and 8 on pin-set 1.
If you want to play sound -track 2 through outputs 1,3 and 5 then you would put jumpers over pins 1, 3 and 5 on pin-set 2 etc.
................Wizard-10 Manual
Wizard - 10 Sound and 1-8 Ch output Board
Programmable board will switch 8 different digital recorded audio signals to 1-8 different output channels.

User can program board to switch 8 different audio signal to any of 1-8 output channels.
Any combination of audio out channels can be activated on and off.
Controller is easy to program and setup.
Board comes with 4 minute Audio chip on board, but can be switched to 8 or 12 minute chip upgrade option.
There is 1 audio jack input for recording 8 different sounds into the Digital sound chip directly by an audio source and 8 on board line output channels jacks to remote amps and speakers setups.
There is the standard record/playback mode jumper selection along with led indicators. Board can even be set to play random or sequence sound playback when triggered
You can adjust the play-back output select jumpers at any time- they are read just before starting any new play-back.
When the audio is combined with any of the Wizard Relay boards, the system becomes an automated audio sound effects and switcher system.

(Audio source, speakers and amps not included)
(9 Vdc Regulated Power supply not included)

(Wizard board, switches, wires, not included)