Click on Image for Closeup Views

Pump Size:
Length: 5-3/4" Width: 1-1/2" Height: 3-1/2"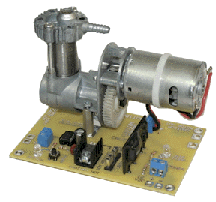 Mini Air Pump with Optional R/C Servo Controller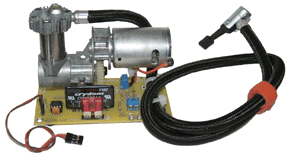 Mini Air Pump
12Vdc operated Mini Air Pump.
Pump will fill a tank with 20 plus pounds of air when operated.

12 Vdc at 7 Amp Power supply needed.
Mounting tabs built on pump frame
Pump can be mounted horizontal or on side
Hose Connector has holding barbs, can be clamped or hose can be secured with wire tie.
8 inch power wires solder to DC motor (Red / Black wire leads)
1-20 plus PSI Output
Piston Pump Head Type compressor
Pump Size: Length: 5-3/4" Width: 1-1/2" Height: 3-1/2"
(Pump fill capacity can be effected by air hose, length, air draw, time powered on, power supply)
(Hose, gauge, clamp, Air tank, power supply not included)
Mini Air Pump R/C Power Driver Board
Servo Controlled Switched On / Off Control
Connect the Power VDC switch board to your R/C receiver or any Wizard Board Servo output and have the option of switching ON and OFF the Mini Air Pump.
Board will switch 12 VDC directly through on-board Power Transistor, to Wire Terminal Block, out to mini pump
Control board electronics is powered directly from R/C receiver or servo output, with quick connector and wire terminal block for easy set-up and control.
(VDC output power supply not included)
Board Size: 2-1/2" L x 2" W x 3/4" H

......... Mini Air Pump Power Driver Board