click on image for example setup view
Main Sound Control Board
3-1/4" L x 2-5/8" W x 1/2" H

Relay Rated: 12 Vdc at 1 Amp
1/8" miniplug audio output jack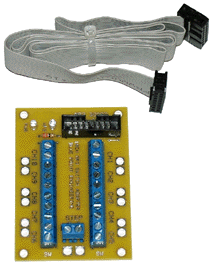 3" L x 2-1/4" W x 1/2" H
Ribbon Connection Cable
12" Long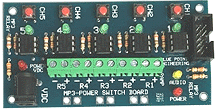 (A) Power Output Switch Relays
Remote (SS) Solid State Relay - 1 Amp Board
3-7/8" L x 2" W x 1/2" H
Relay Rated: 12 Vdc at 1 Amp




(B) Switching Relays
Remote (SS) Solid State Relay - 1 Amp Board
3-7/8" L x 2" W x 1/2" H
Relay Rated: 12 Vdc at 1 Amp



(C)
Remote Solid State Relay - 3-10 Amp Board
Note: SS Relays not Included - User adds
5-1/4" L x 2-7/8" W x XX" H


Solid State Relay Example 1
Solid State Relay Example 2

Operating / Setup Instructions
10 Channel MP3 Playback with
Remote 10 Ch Switch Selection Board
Optional 5/10 Solid State Relay Boards
Newly Enhanced Version
Advanced full function MP3 audio control board, when triggered by activating the remote channel 1-10 input switches or by dry contact closure (Relay), will cause the player to play back 1 to 10 MP3 files that are stored on a USB flash device and turn on a remote (B. C) Solid State Relay board corresponding to the sound channel activated 1-10. Board operates from 9 VDC @ 0.5 Amp Power Supply

The audio (Stereo) MP3 files can be of any size up to the capacity of the USB flash device. You can have any number of files up to 10 on the flash device.
1/8" miniplug audio output jack

There are 3 modes of operation provided ­ Manual, Sequential and Random channel selection.

(1) Manual Mode: any channel 1 - 10 can be played back by selecting the remote switch corresponding to the sound channel, along with the corresponding solid state relay being activated.

(2) Sequential Mode: the player will play the files back sequentially from file000.mp3 to file009.mp3 (or whatever your last file is), one file at a time each time the board is triggered, along with activating a Solid State Relay for that channel. The Relays will stay activated for as long as the sound file is playing. After the board has played the last file, it will go back to file000.mp3 and start over.

(3) Random Mode: the control board will pick one of the files to play back at random, along with activating the corresponding solid state relay. It will pick a new file each time the board is triggered. The board will wait until the file has finished playing before it can be activated again.

This MP3 controller can be used in a prop, animatronic character, puppets, information display exhibit to play very high quality stereo audio sound every time it is activated and activate remote lighting, effects, animatronic controllers or other devices connected to the remote relay boards.

There are two different remote relay boards available to use with the playback board. (B) 5-Ch Solid State 2 Amp Relay board or a (C) user setup relay board that can use 1-5 solid state relays from 3 to 10 Amp in size provided by the user.

The user setup Remote Relay Boards (B,C) can be combined with the same size Solid State Relays or different Solid State Relays can be mixed with the Solid State 3-10 Amp board.
Each relay board has 5 solid state relays, so 1-5 or 1-10 relays can be used, as needed.
Main Sound Control Board can be operated without attached solid state relays if needed. A total of 10 Relays can be added to main sound control board.

Relay Output ports can be used to trigger other devices
Port provides 4.5 Vdc at 20 mAmps out

Remote Sensor boards can be added to trigger the audio playback board automatically, or manual switches can be used to playback channels.
Several board configuration setup options available

( 9 - Vdc power supply, speaker, remote amp, switches, switch board and cable, audio connection cables, USB pen drive, Solid State Relays and audio cables - not included )

Operating / Setup Instructions
Note: SanDisk USB Drive Recommended