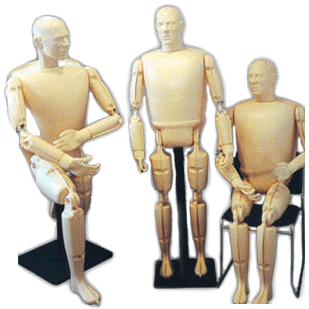 Mannequin Form Data

DATA CHART

Height = 5'-9"
Chest = 22"
Animatronic Mannequin Form
Build your own animatronic character prop from this basic plastic mannequin form.
This basic Mannequin form was developed for use in training facilities where three (3) dimensional figures would add realism to training scenarios.

Mannequin is made of high density plastic and has articulated joints, 360° swivel head, adjustable arms and legs, along with hands, with fingers that actually "curl" and hold objects. By adding your own mechanical systems, servos, motors, sound boards and wizard or puppet controllers, you could turn this mannequin into a functional animatronic prop. Easily accessible hollow head and torso cavities along with "pass through" outside edge arteries allow for servo wires, servo push or pull cable mechanical units to be used within the mannequin.
Mannequin is life-sized, water repellent, UV resistant, and an environmentally friendly, recyclable plastic.
Approx: 12 Pounds: without stand
Body parts are nested together by a Bolt and Nut system which allows for articulated movements.
Hand are solid rubber, with internal metal wires, are bendable, and hold position.
Head, Chest, Legs and Arms are hollow.