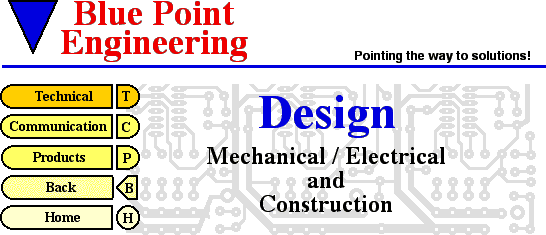 Project . Mechanical . . Construction Electronic . Technical Center . Communication
Products Sales . Links . Back . Home Legal Information

To Top of Page
Back
Home


To Top of Page
Back
Home


.
To Top of Page Back Home


To Top of Page
Back
Home
Copyright © 2008 Blue Point Engineering Inc., All Rights Reserved


Disclaimer

This material / Informational data is provided "as is" Blue Point Engineering does not warrant or make any representations regarding the use, validity, accuracy, or reliability of, or the results of the use of, any materials / information represented, expressed or implied.
Use at your own risk, user assumes fully all responsibility for using the information presented or applied.

In no event shall Blue Point Engineering LLC. be liable for any claim for incidental, consequential damages, or any injuries sustained due to the use of or improper use of these circuits or drawings represented. Circuit and design presented here should NOT be used for medical, life-saving, life-support, or any applications that could cause injury, dangerous / hazardous situations or consequential damages resulting from the use of these circuits represented. All circuits, diagrams presented by Blue Point Engineering, LLC are represented as is, and have no guarantee as to the the correctness of the items presented.



Visitors Viewed This Page